SimpleStake Impulse Staking
During the staking process, a solid or hollow "boss," or tab, protruding through a mated part is heated to a softening temperature and formed to a head that captures the mated part.
HEAT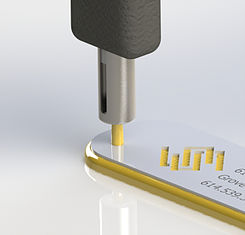 Parts are loaded into fixture, sensed for presence, and operator presses cycle start. Platen descends and all tips make contact with corresponding plastic "boss." Power is pulsed to the tip, creating heat at the boss/tip interface. This heat melts the boss and begins to form the button.
COOL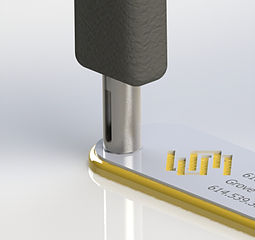 Once the heating cycle is complete and the tip is fully extended, a blast of compressed air enters the air tube and blows onto the back side of the tip, venting through the visible slots (see above). This allows the welded button to cool and form a strong bond with the mating part.
RELEASE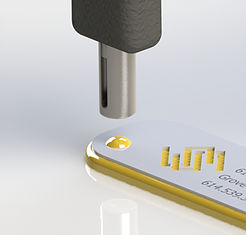 Now that the button is cool, a short pulse of power is applied to the tip in order to whet the surface of the plastic. This CleanRelease stage prevents sticking and stringing, common with other methods of staking. The welding is complete with a strong and lasting mechanical bond.
Impulse Staking is a process that creates heat on-demand for staking plastic bosses of various sizes. The process is perfect for sensitive electronics and parts where excessive heat and pressure may cause damage to visible areas. At the end of each cycle, tips are cooled to room temperature within seconds preventing accidental operator injury and eliminating the need for constant heating – see our video for an example.
Unlike heat staking and ultrasonic welding, Impulse Staking applies much less pressure on the part and provides a clean and string free method of staking. Impulse Staking is a proven process that once setup, requires little to no maintenance.
For more info, visit SimpleStake.com